3 Things Your Eyes Want You to Know About Task-Specific Eyewear
Okay, so your eyes can't really talk.  But if they could, we have a feeling they'd tell you all about why it's so important to choose the right kind of glasses for whatever activity you're doing.  Here's what they'd share about task-specific eyewear:
One: Get Screened for Screens
When you hear "CVS" you might assume we're talking about a local neighborhood pharmacy.  In fact, we're talking about something called "computer vision syndrome." (It's also known as "Digital Eye Syndrome.") The use of digital screens, specifically computers, phones and tablets, can take their toll on your eyes, causing dryness, eye strain and blurred vision.  Here's what do about it: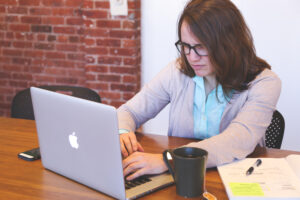 First, get a comprehensive eye exam to make sure that your prescription is up to date and that your eyes are healthy.
Second, work with an optician who can help you choose the right pair of computer glasses.  Most will have a special lens that helps to reduce glare.  When properly fitted, you'll be able to focus on your screen easily without having to lean in, tilt your head, squint or otherwise strain your eyes. 
Two: Don't Become an Eye Injury Statistic at Work
Here's one statistic you need to know:  nearly 2,000 Americans are impacted by work-related eye injuries requiring medical treatment.  Here's another one: eye injuries cost over $300 million a year. (Talk about an eye opener!)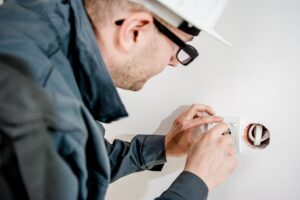 Perhaps unsurprisingly, the types of jobs with the highest risks of eye injury are things like construction, welding and mining.  But they're not the only occupations that can put your eyes at risk. The American Optometric Association notes that risks include jobs with any of the following hazards like projectiles (dust, metal or wood particles), chemicals, radiation (UV radiation, lasers or infrared radiation) or blood borne pathogens.  That's why choosing the right safety glasses is so important.
Know the requirements of your workplace when it comes to task-specific eyewear; for instance, if you're working with chemicals you need safety googles while in a construction area you need glasses with proper side protection
Consider polycarbonate lenses, which are usually impact-resistant than standard lenses 
Three: Don't Play Games (Without Protecting Your Eyes)
We can't say this enough: athletic gear should always include protective eyewear. Whether you're a skier, tennis player, runner, baseball player or any other type of athlete, you need to make sure your eyes are properly protected.  Whether you need prescription eyewear or not, gearing up with quality frames and lenses will keep you enjoying your favorite sports longer.
Interested in learning more about your eyes (and what they'd want you to know about task-specific eyewear?)  Schedule your eye exam today or stop in to check out all of our eyeglass safety options.